Slide
Wedding Marquee and Tent Hire
Beautiful marquees, delightfully dressed
Slide
Luxury celebration picnics served on an elegantly dressed table.
Slide
Colour and bespoke decor for your charity, community or corporate event.
Hampshire Party Pods
Your bespoke event company for weddings, parties, and events
When you want an event that reflects your personality, and excites and delights your guests, call us.
We provide beautifully dressed Indian pavilion tents, boho marquees, and bell tents for luxury outdoor events, birthday parties, weddings, corporate events, festivals and more.
We are a friendly team who love what we do and are extremely passionate about creating the best experience for you.
Marquee And Tent Hire In Hampshire
We specialise in marquee hire for your wedding, celebration or family party.
From an elegant boho marquee to a stunning Indian marquee, we create the perfect setting for your special event.
Wedding Marquees
An elegant setting for your wedding, with bespoke marquee decor design, in our handmade Indian marquees.
Luxury Outdoor Picnics
A delicious luxury picnic laid out on a seasonally decorated table. A delightful treat for any occasion.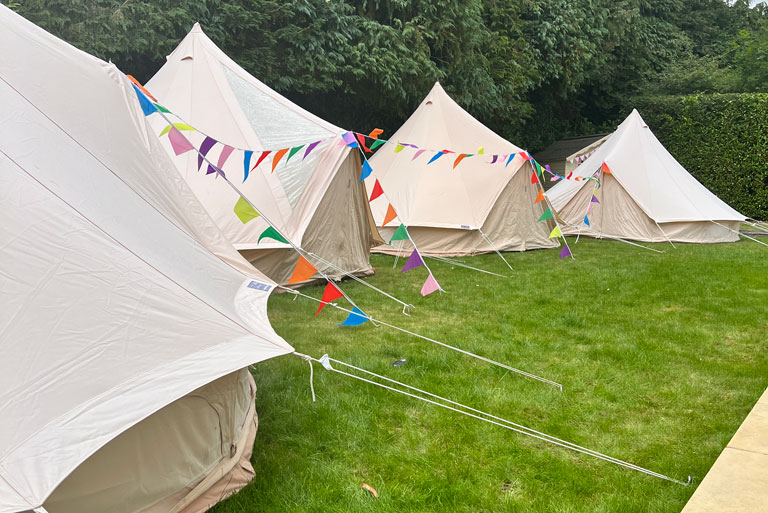 Bell Tents For Parties and Glamping
Traditional cloth bells tents available for a smaller party or as overnight camping for wedding guests
Festival and Events Tents
Create your festival village with marquees, bell tents, and party pods, with power and lighting options.
Furniture Hire
Table and chair hire for weddings, parties and events, chill-out sofas, matting, rugs, dance floors and more.
Party Pods
All-weather, clear dome party tents, also known as domed tents igloos, geodomes, or party pods.
What Our Customers Say
Want to have a party outside – and enjoy that…