Wedding Bell Tent Villages
Glamping overnight accommodation for
your wedding guests.
Bell Tent Hire for Parties
Traditional party tents for
any type of smaller celebration.
Bell Tent Villages For Weddings
Offer your guests overnight accommodation in a festival-style bell tent 'glamping' village. Traditional canvas bell tents create a pretty vintage style camp with their tradition pitched roof profile, elegant entrance, and generous internal space.
Our bell tent village can be set up almost anywhere with sufficient space, including gardens, campsites, fields and selected wedding venues.
Prices start from just £235 plus vat for a five tent village.
For more details or to discuss your requirements, call us on either:
07787 449228
07572 334325
Wedding Guest Accommodation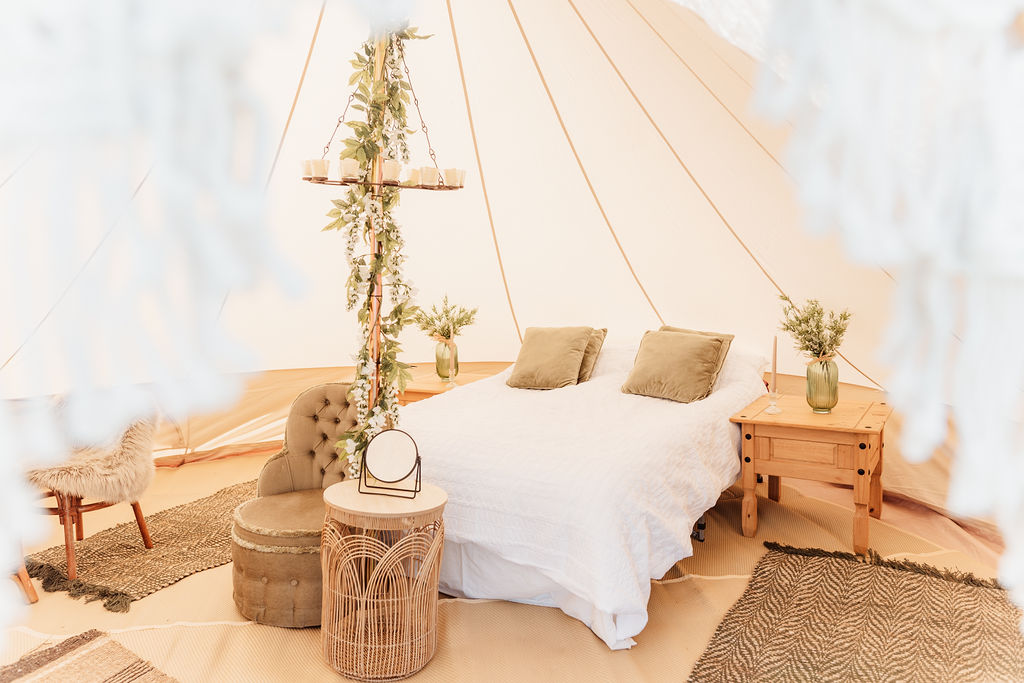 Our 5 metre bell tents can sleep 4 adults in comfort, and come complete with:
Camp beds (single or double)
Fitted sheets
Coffee table
Fairy lights, lanterns and a mirror
Wall to wall flooring
Decorative plant
Rugs
Our Bride and Groom Bell Tent package includes a double bed, full length mirror, rose petals, bubbles and luxury bedding.
Add a luxurious cotton bedding kit for a small extra charge, including single or double duvet with cover and cotton bed sheets.
We offer a "no frills" bell tent option where guests bring their own mats, sleeping bags, lights, etc.
Get in touch to discuss your requirements
Individual bell tent hire for parties
Our traditional bell tents make a lovely setting for a children's party, small family gathering, or small-scale celebration. Hire one for small parties, or two or three together for different spaces with the same traditional feel.
With tradition pitched roofs and generous internal space, our hire bell tents can be set up in gardens, campsites, and fields. Bell tents are also cost-effective and look far more attractive than a PVC pop-up marquee or similar.
Individual belltents start at just £295 plus vat for a five tent village. For more details or to discuss your requirements, call us on either 07787 449228 or 07572 334325.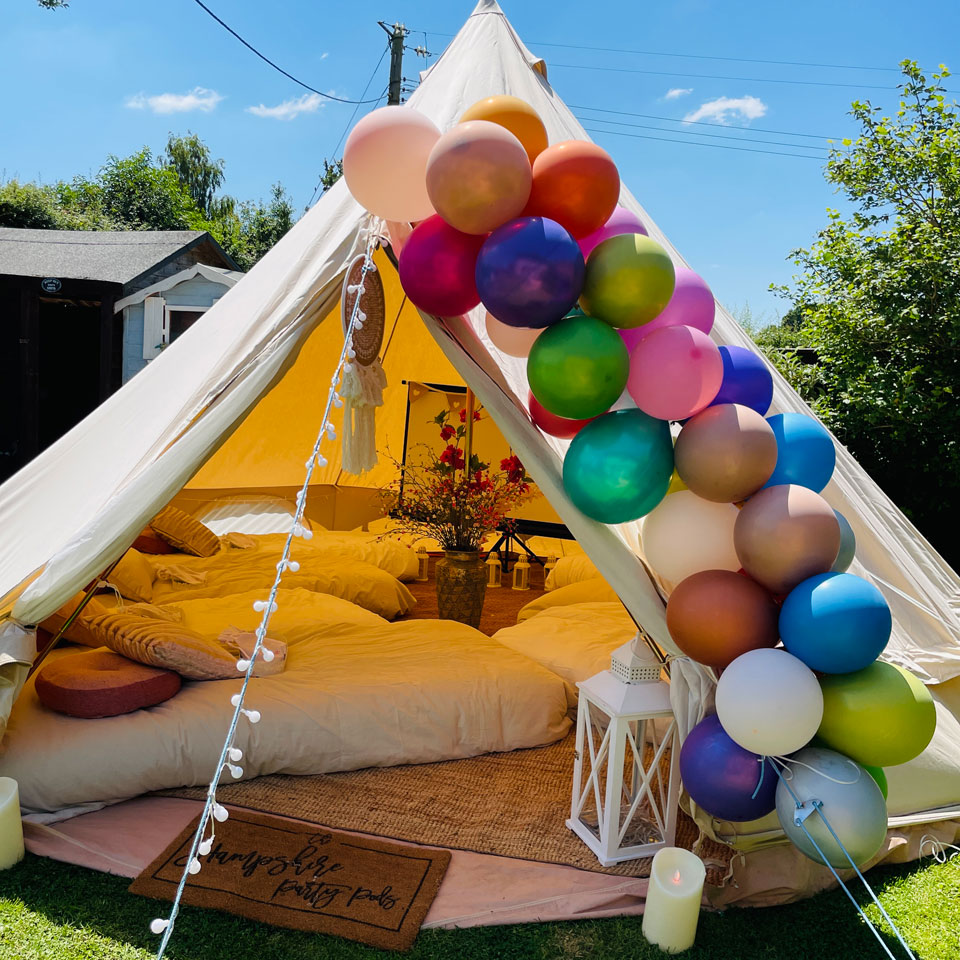 Bell Tent Hire in Hampshire
Our 5 metre party bell tents package come complete with:
Floor matting
Secure guy ropes and pegs
Full setting up and dismantling service
We can make your bell tent party-ready with optional extras including:
Decorative lighting
Projector and screens
Chilled sofas
Pic n mix ladder
Log effect heaters
Luxury bedding
Just What You're Looking For?
Call us to discuss your
Bell Tent Hire requirements